We all have a lot to be thankful for and…well it's time to celebrate Thanksgiving, Jolly Roger Outer Banks style. We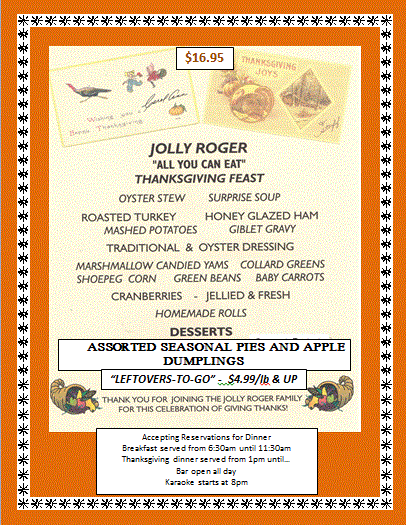 are with our families, the crazy summer season is over and now you get to rest..AFTER:
You purchase the turkey
Buy the mashed potatoes, stuffing,cranberry,salad,pie
ingredients and other sides, accoutrements, and desserts
Get beer, wine, soda, and bottled water
Lug this into the house, condo, or apartment
Prep the food (this is about 100 steps in itself)
Pull the fine china
Wash the pots, pans, and dishes that have been in the cabinet since last Thanksgiving
Set the table
Put all the food out
Serve everyone, shuttling things back and forth from the kitchen
Clear the table
Serve dessert
Clear the table again
Find containers with actual lids for the leftovers
Start moving the leftovers to the containers
Spend the next 4 hours cleaning dishes
Pass out..after your restful Outer Banks Family Thanksgiving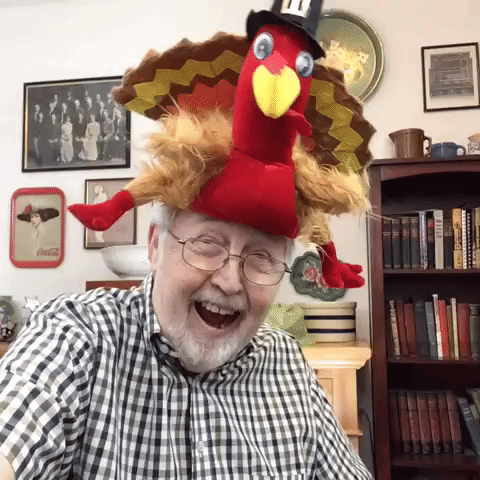 So what do you do?
Well the Jolly Roger Restaurant in the Outer Banks has a solution:
Let Us Prepare Your Obx Thanksgiving
Here are the steps you have to take for our Thanksgiving in the OBX:
Make a reservation for Thanksgiving Day at the Jolly Roger
Show up at 1 on Thanksgiving Day
Enjoy as much food as you can consume before passing out
Watch karaoke after or participate if you are in the mood to serenade the pirate lounge
Go Home and REST WITH YOUR FAMILY
Gee..This is a tough choice.. Come celebrate Thanksgiving with us!
Outer Banks Thanksgiving Feast
The Jolly Roger Outer Banks Thanksgiving Feast includes:
Oyster Stew
Roasted Turkey
Honey Glazed Ham
Mashed Potatoes
Giblet Gravy
Traditional Dressing
Oyster Dressing
Marshmallow Candied Yams
Collard Greens
Green Beans
Shoepeg Corn
Cranberries
Baby Carrots
Jellied & Fresh
Homemade Rolls
Seasonal Pies
Apple Dumplings
Leftovers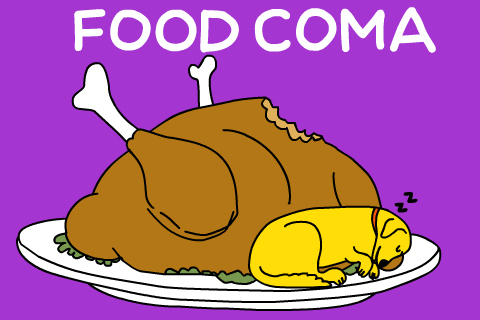 But what about those great leftovers you used to spend an hour scooping into containers?
The Jolly Roger is a step ahead of you. You can get leftovers to go for $4.99 a pound and up. So you choose if you have them or not and how much of it you want.
Save
Save
Save
Save