Father's Day in the Outer Banks
It is a special holiday. Father's Day in the Outer Banks is a chance for us to say thank you to the man in our life who helped raise us and provide for us. It is hard to really thank someone who has been such a part of our lives, but here are some ideas..
Looking for a place to take dad on Father's Day?
The Jolly Roger Restaurant has a whole bevy of offerings and food to honor your Father. We love hosting families who decide to celebrate this occasion with us in Kill Devil Hills and we have a lot to offer you and Dad. Just read through this and see all the ways we help you celebrate and honor the patriarch in our life and offer great value at the same time.
Where to take dad on Father's Day
So when the question comes up where to take Dad On Father's Day, we know many of you will join us. In fact here is a surprise, besides food, for Dad at the Jolly Roger…
A FREE gift for Dad
For breakfast or lunch visits Dad will get a FREE gift to go with his meal
For Dinner Dad's reward is 75% off the gourmet menu we offer for his entree
Best restaurant for dad on Father's Day..Why settle for just one
Why settle for just one restaurant on Father's Day? Why not pick an Outer Banks restaurant that specializes in making great food for any taste. The Jolly Roger has a special menu focusing on three areas that are big favorites with Dad's everywhere. How do we know? We are one of the oldest and most established restaurants in the Outer Banks and have seen our Outer Banks family growup. There are multiple generations of Dad's that visit us all the time and on Fathers Day.
 Seafood Restaurant Menu for Father's Day
In the Outer Banks you have great seafood and for the Dad who loves great shellfish and fish, our menu is designed to please. We are offering a surf and turf mega feast that includes:
Ribs
Shrimp
Crab Legs
 Mussels
Clams
Corn on the Cob
Slaw
And this seafood and ribs mega meal is only $35.99
Steak on the menu For Dad's Special Day
Two words for our Dad's who love meat and potatoes..
Steak Extravaganza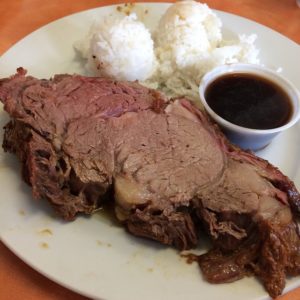 We are going all out with menu specials featuring the best cuts of beef. For many men, this is the only way to go, whether they are a Daddy or not. Our Steak blowout offerings include:
Prime Rib 10 oz $21.99
Rib-Eye Steak $21.99
Porterhouse $29.99
All three of these are tender cuts of meat and you will taste the difference over your average sirloin or burger. And if you wanted seafood with your steak try our Beef and scallops platter affectionately called:
Beef & Reef
This duo includes:
Prime Rib with 6 Shrimp or Scallops $26.99
Special Discount on Fathers day
But remember…if accompanied by the family after 4:30, which should not be hard to do since they are the ones taking you out, you can get your Fathers Day Special entrée for 75% off.
---